It has been a much anticipated season for CFC after finishing the 2017 PLA regular season with a 6-2 win over Oakland County FC to clinch a playoff spot. Having lost to the Milwaukee Bavarian's in the PLA Final, some work was left unfinished. The time between the last game of the 2017 season and the start of the 2018 season seemed like an eternity. With becoming a new member in the UPSL and having the chance to travel to a new team to begin the season, the excitement for the staff and players was at an all time high.
To open the season, CFC traveled to Indianapolis to play the USAI Old Bhoys. Having not heard anything about the Old Bhoys, it made for a great start to the season. Goals from Dane Laird (1) and Ryan Williams(1) would secure the 2-0 away victory to open the season.
On May 12th CFC hosted their first home game of the 2018 campaign against an always strong Muskegon Risers side. CFC came out in form denying the Risers to have a clear opportunity on goal. Laird (2) again would open up the scoring in the 53rd minute from an Alex Serwatka cross that Laird was able to guide home with his head. CFC would add to their score in the 93rd minute after Colin Wilden (1) hit a perfectly struck ball finding the top corner from 18 yards out. CFC is now 2-0-0 in the 2018 season.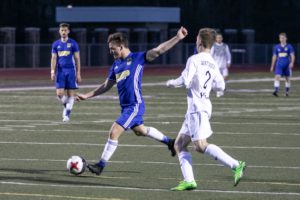 We had the opportunity to meet with Head coach Bruce Wilden " Although we have started out great this season, there is still much improvement that needs to be done. We have a few key players still yet to arrive and hope to raise our expectations in training and in games. We will move on from these two games and now begin to focus on our next match".
CFC hosts Indianapolis Old Bhoys on Saturday June 2nd, 7:00PM at Avondale High School